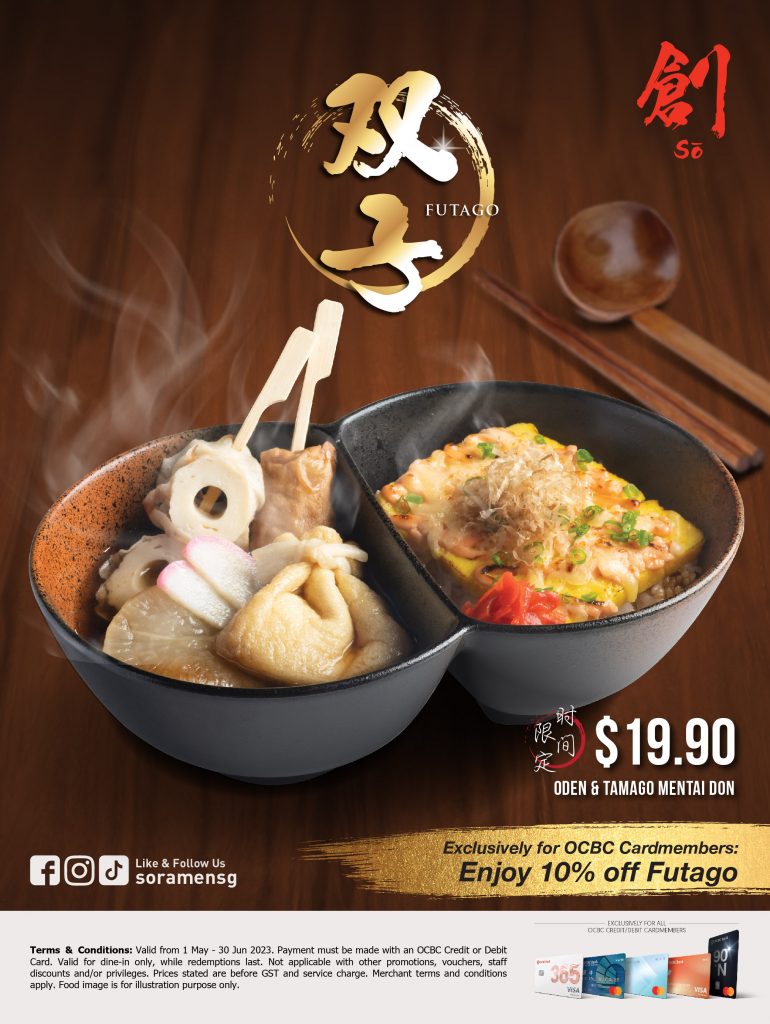 Available at all Sō restaurants from 1 May to 30 Jun 2023, while servings last!
Experience the flavours of Japan with another exciting Futago bowl offering the best in both worlds. A traditional Japanese hot pot dish, Oden, offering food lover to indulge in warm and comforting flavours. A hearty stew with variety of ingredients which includes Yaki Chikuwa, Kinachaku Mochi, Goboten, Konjac, Kamaboko Fish Cake and Daikon simmered in a pot of flavourful dashi broth.
Pairing with a popular Japanese rice bowl, Tamago Mentai Don that consist of a bed of steamed pearly morsels of Koshihikari rice, drizzled with sweet teriyaki sauce then topped with fluffy egg and a layer of spicy mentaiko and cheese flamed to golden brown. With a handful of bonito flakes and a dash of spring onion as the final touch to the colourful and delicious meal. The savoury way to enjoy is to mix all the ingredients and taste each mouthful exude the umami flavour.
Exclusive Deal for OCBC Card Members
Enjoy 10% off Futago Bowl when you make payment with a valid OCBC Credit or Debit card.